Naming of a New Head of School Marks Just Three Appointees in Six Decades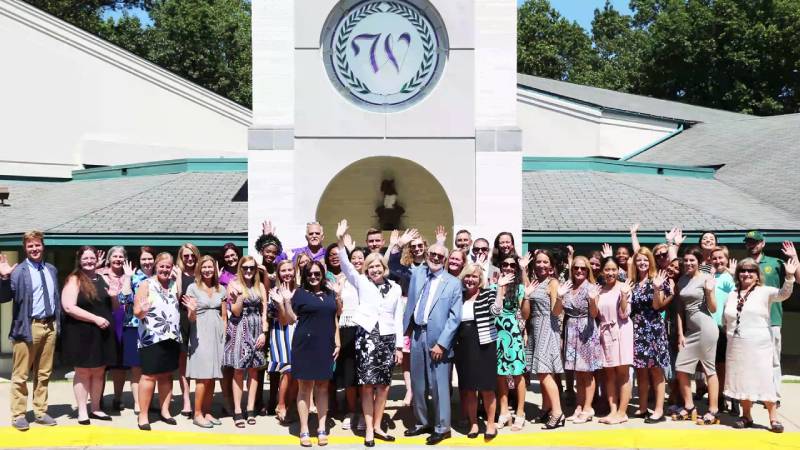 The year was 1962. John F. Kennedy was president. A postage stamp was $0.04. West Side Story took top honors at the Oscars, and the world gained The Tin Drum, by Günter Grass. It would be seven years before anyone stepped foot on the moon.
This was also the year, Westminster School Founder, Mrs. Jane Goll first rented facilities at St. Alban's Episcopal Church in Annandale, Virginia, and began offering private kindergarten classes. From those early days and small beginnings, it's now sixty years later, and even Mrs. Goll couldn't have imagined that what she started would grow into the Westminster we know today.
Sixty Years, Three Heads of School
In Westminster's sixty-year history, the school will only have named three heads of school: the founder, Mrs. Goll; her mentee, Mr. Ellis Glover; and Westminster graduate, parent, teacher, and administrator, Mrs. Nancy Schuler.
For a private school, this lack of disruption in the leadership role is highly desirable, but many schools do not get to enjoy this kind of longevity and stability.
"Only three heads of school in a private school in sixty years is unheard of. The average tenure for an independent school head is seven years," says Schuler.
The data strongly support this notion. In 2019, the National Association of Independent Schools teamed up with the University of Pennsylvania to explore and to quantify this growing issue of headship turnover within independent schools.
The 2020–2021 school year saw 10.9 percent of the 1,481 schools surveyed experience head of school turnover. While general turnover is undeniably high—more than a tenth of private schools in any given year experience a change in leadership—the more telling statistic is unexpected turnover.
Of the schools that experienced turnover in the 2020–2021 school year, 17.4 percent of those departures were unexpected. While less than 2 percent of private schools were affected this last school year, it does mean approximately 15 percent have experienced this issue over the last nine years.
With our unwavering guidance at the highest levels of leadership, Westminster is so grateful and honored to provide stability, confidence, and consistency year after year to our staff members, board of trustees, students, and parents.
Why Does Consistency in Leadership Matter?
A head of school is essential to any private school's success. As the face of the school, the headship role determines the tone, direction, and ideological approach to education. Having consistency at this position offers benefits that affect nearly every aspect of the school:
Time to build essential connections with students, parents, teaching staff, administration, and board members
Time to take ownership and personal responsibility of the school's direction
Time to research plans, to implement systems, and to create lasting change within the school
Bolstered trust in the school at the leadership level
Enhanced reputation, with current and prospective families
Board stability
Consistent, thriving educational approach and curriculum
With Westminster's demonstrated track record of stable, lasting leadership, we have been able to enjoy these benefits and to confer them on our families for six decades.
It's Not Just Leadership
Westminster has been incredibly fortunate not only in the dedication and longevity of our heads of school but in the teaching staff as well. Over the course of our sixty-year history, over fifteen people at the school have amassed more than twenty-five years of service.
Here are just some of the dedicated teachers and administrators who have given so much to Westminster:
Other notable teachers well on their way to twenty-five years given to the school include Kathryn Jacobson, Charlotte Foster, and others.
Turnover in teaching staff can be just as problematic as turnover at the headship level. (Again, the data show this is a consistent problem across schools but particularly in private schools.) Westminster's ability to keep its teaching staff year after year offers students a litany of benefits, from stability to all the associated advantages of having experienced teachers leading and guiding the classroom.
"Our retention of teachers, administrators, and leaders shows there is something unique about Westminster," says Schuler. "It speaks to the dedication this school inspires. You don't get that at very many private schools. We're very lucky in that regard, and I'm proud and honored to be at the helm with such a supportive and committed team around me."
As Westminster approaches its sixtieth year, we look back on our long and storied history. In the last six decades, we've experienced so much growth, change, and forward progress, but it's comforting to know we're also still true to the simple and pure ambition of our founder, the late Mrs. Jane Goll. Here's to another sixty, Westminster!
Are you and your family interested in joining the Westminster family? Schedule your live virtual tour today. See for yourself what makes Westminster the kind of place people want to stay for decades!