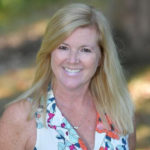 6th/7th/8th English / Language Arts English Dept. Chair, Resource Prog. Director
Westminster School
Reading Resource Education: B.A. in English, George Mason University. M.A. in English, The Teaching of Writing and Literature, George Mason University Began at Westminster: 1999
703-256-3620
"One looks back with appreciation to the brilliant teachers, but with gratitude to those who touched our feelings. The curriculum is so much raw material, but warmth is the vital element for the growing plant and the soul of the child." - Carl Jung
I began working at Westminster School in 1999, and this is my 21st year of service to the school. I began as the director of the After Care Program and started substituting that year as well. I soon began subbing each day and running the ASCP in the afternoons which gave me a great insight into how each grade level and class works.
The next year I began teaching third and fourth grade English and taught those grade levels for many years. About twelve years ago, I started the Student Resource Program and still currently serve as its director. I worked as a Resource Teacher until three years ago when I stepped back into the classroom as a fifth and sixth grade teacher. I then stepped up to teach in the upper school. I became the English Department Chair early in my career and still serve in that capacity.
My degrees were earned at George Mason University. My BA is in English with a concentration in Folklore and Mythology. My MA is also in English, in the Teaching of Writing and Literature. I have served as a Northern Virginia Writing Project Teacher Consultant for over two decades, sitting on the board and editing a student anthology, Falling for the Story, for that time period as well. I am also a member of the National Council of Teachers of English (NCTE).
In my classroom, I hope to inspire students to love both reading and writing. I have high expectations of each student, but I believe my job is to take each student at his or her stage of development and take that student as far as I possibly can. Team teaching is helpful in this goal, as I have the students for two years. Students respond well to teachers when they understand someone is invested in their success.
Language Arts has so many components that I often think of it as a large tree. On that tree there are many branches. Language Arts has vocabulary, reading skills, writing skills, and each of those parts has even more parts! Unlike some other subject areas that are more linear in their presentations, Language Arts is more like that tree with branches and blooms growing at different rates. I like to look at each student's progress holistically and see where he or she is succeeding and also other areas in which I can help nurture and guide.
Outside the classroom, I spend time with my large family. I have five children and one granddaughter, and there always seems to be something going on in my house! I love reading and spending time at my house in Rehoboth as the beach is my all time favorite place to be. It's even better when I'm there with family and friends.