Why is a Classical Education Relevant in the Digital Age?
Why is a Classical Education Relevant in the Digital Age?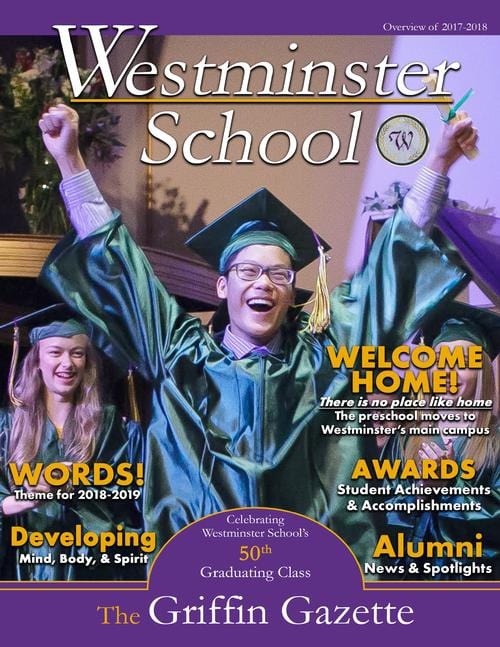 Westminster School Magazine
Westminster School (Independent, 

pre-K-8th
 grade, est. 1962) provides an in-depth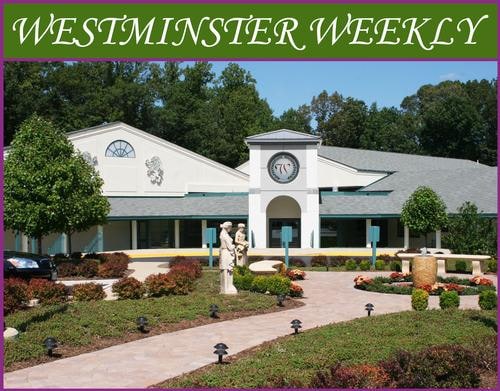 Westminster Weekly
The Westminster Weekly is an e-newsletter that provides weekly updates on happenings at school. Each edition also features a spotlight on at least one graduate and a 'food for thought' section with interesting articles and blogs.
"Westminster School nurtures ... and finds a way to bring out each child's individual gifts. This school is like no other."
Westminster School (Independent, pre-K-8th grade, est. 1962) provides an in-depth, well-rounded program of academics combined with close attention to each child's personal development. Within a warm, nurturing environment, children are encouraged and taught how to exercise kindness, respect, responsibility, integrity, and resilience, as well as the knowledge, skills and attitudes fundamental to their delight in learning. With a clearly defined mission and philosophy, Westminster School provides a carefully planned, consistent approach to all aspects of a child's intellectual, emotional, and social development.
Westminster's classical program provides a systematic, age-based, cross-curricular approach to developing thinking skills. It develops love of reading through early mastery of reading skills, emphasis on speaking and writing skills (including cursive writing), and an impressive literature program of high-quality and classic works. The in-depth story of western civilization (taught sequentially in grades 3-8) provides an exciting and imagination-stirring approach to history. Also included are French (grades K-8) and Latin (grades 6-8), which creates a strong foundation for English and a springboard to other languages. Advanced math and science classes in all grades are supported by extracurricular clubs such as Math Counts and Science Olympiad, which provide extra STEM activities and challenges.At Westminster, students look forward to coming to school each day and are proud of what they accomplish. Daily work, special projects, and frequent subject-related field trips provide many opportunities to explore the world, discover special interests, and exercise creativity. The children's curiosity and imagination are sparked by a team of dedicated, creative teachers who are passionate about the subjects they teach. At Westminster, rather than having one teacher deliver all core academic subjects, a specialist is engaged to teach each one, creating a subject-immersion environment in each classroom. Many of our teachers hold an undergraduate degree in the subject he or she teaches and a master's degree in education, or have a comparable background.
The arts are central to our mission of developing well-rounded, confident young people who have the chance to explore, develop, and express their potential in all areas. Art and music classes are part of the weekly schedule for all grades. Dance is included in P.E. for all grades. All students participate in drama, performing in a class play every year. (Along with the advanced academic preparation, alumni routinely cite their drama experiences as among the most valuable in preparing them for their future lives.) Orchestra is an option for students in grades 3 – 8. Musical performances, athletic competitions, art exhibitions, math challenges, poetry competitions, dance contests, science fairs, and talent shows provide many opportunities for students to explore and share their talents.
Our well-rounded, in-depth program nurtures eager learners and provides exciting opportunities for motivated children. This is supported by extensive in-program and extracurricular activities and clubs, including Resource for advanced math and English students, Builders Club (community service), Chess, Chorus, French Club, Math Counts, Odyssey of the Mind, and Science Olympiad, as well as daily P.E. and teams for basketball, soccer, softball, and track and field.
Westminster's daily school life is supported by an array of programs, including extra academic help (included in tuition), early and after-school care, summer and intersession camps, after-school enrichment classes, bus service, and an optional box-lunch / hot lunch program. The Westminster Parents Club and other volunteer opportunities provide a variety of ways for parents to make friends, get involved in school life, and support their children's education.
Finally, the Westminster community is strengthened by its diversity, with a student body and faculty representing more than 40 different countries and a variety of religions and ethnic origins. Westminster School provides a unique environment where each individual is recognized, respected, and celebrated while all are united by shared values of kindness, respect, responsibility, a strong work ethic, enthusiasm for learning, and an aspiration to excellence and a fulfilling life.