Mission & Philosophy
Mission
Westminster School is dedicated to providing a superior elementary and middle-school education whose fundamental goals for each child are a disciplined and well-informed mind, strength of character, dedication to learning, generosity of spirit, and joy in the possibilities of life.  The Westminster program is founded on a traditional curriculum, rigorous academic standards, and an atmosphere that promotes respect, integrity, kindness, and a sense of excellence.  Westminster's academic program provides thorough training in basic subjects within a broad humanities curriculum.  The Classical tradition, great books, and exposure to the arts are emphasized and integrated throughout an accelerated, thoroughly rounded program.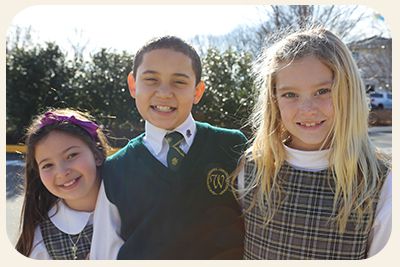 Philosophy
The school's philosophy springs from deeply held beliefs about human potential and responsibility, which are drawn from the Classical tradition of Western civilization and humanist philosophy. These ideals form a standard against which all aspects of Westminster's curriculum and policies are measured, and underlie the core beliefs of Westminster School:
We believe that all people, regardless of gender, race, religion, nationality, or other differences, can agree upon essential, human values that they wish to pass on to their children.  Among these are respect, tolerance, kindness, self-discipline, a strong work ethic, integrity, and the love of learning.
We believe in the essential goodness and forward-striving nature of children who, if properly motivated and imaginatively taught, are capable of the highest levels of achievement in all areas of endeavor.
We believe that civility, courtesy, and good manners are the essential foundation for all human interaction and participation in society.
We believe that genuine freedom can only be achieved through self-discipline, and that discipline is acquired through guidance and practice.
We believe that enthusiasm, industry, and perseverance are the keys to success.
We believe that challenge is necessary for growth and that high expectations, lovingly and firmly held, result in achievement and genuine self-esteem.
We believe in the importance of developing mind, body, and spirit, and of striving for balance among these energies.
We believe in the power of great works of art to transform the individual.
We believe that creativity is the essential act of the human spirit, and that engagement in the arts is a lifeline for self-discovery, self-expression, and connectedness with the world.
Essentially, the Westminster program is directed toward developing the humanity of each child. The academic curriculum and other program offerings are considered vehicles for achieving these humanistic goals:
respect for self and others;
tolerance of differences and kindness to all;
courtesy and good manners;
self-discipline;
enthusiasm, industry, and perseverance;
ability to think clearly/critically and articulate thoughts;
recognition of and striving for excellence;
integrity; and confidence to share talents and continue seeking personal growth.
Westminster presents a diverse, challenging curriculum in a purposeful classroom environment which emphasizes thorough mastery of subject, high standards of achievement, good study habits, and personal responsibility. The staff interprets their position in loco parentis not only as responsibility for the children's safety, but as mentors in character-building and comportment, modeling and guiding the students to develop the qualities outlined above.
Westminster recognizes that its highly structured, academically accelerated program is not always easy for the students or their parents. As Spinoza wrote, "All things excellent are as difficult as they are rare," and striving for excellence is a cornerstone of the Westminster approach. A high level of agreement and mutual support is needed between the school and the parents in order to carry out the program and ensure the students' success. At open houses for prospective parents, grade-level coffees held for the parents twice yearly, and other meetings, school administrators explain and expand upon the school philosophy, including "the golden triangle." This symbolizes a system of mutual respect, communication, and support, with the parents at one point of the triangle, the teachers at another, the administration at the third, and the student in the middle. This paradigm includes the gradual expansion of the triangle's limits as the child matures through the grades, growing increasingly capable of self-discipline, responsibility, and good decision-making. As the student completes the Westminster program, the triangle opens and the young adult who has been guided, shaped, and rendered both capable and confident, emerges well-prepared for a wider world of responsibilities and possibilities.