The Griffin Academy Of Westminster School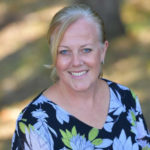 Kristine Lee
Preschool Director
Westminster School  | 3819 Gallows Road Annandale, VA 22003 | 703-256-3620
BA, Liberal Studies, Marymount University
1989 – front office assistant; 1996 – 3/4 grade math teacher; 2010 – preschool director
1996 – BA Liberal Studies from Marymount University
Mrs. Lee joined Westminster School in 1990 as a main office assistant. After completing her undergraduate degree, she began teaching 3 rd /4 th grade math and later served as the 3 rd /4 th Team Leader. In 2010, she was tapped to implement and direct The Griffin Academy Preschool of Westminster School.
Mrs. Lee enjoys creating a classroom that is warm, inviting, bright, and colorful. She encourages the children to feel at ease to be themselves and enjoy laughing as much as she does.  Mrs. Lee makes it a point to engage with each child every day, whether it is waiting for a response in class or commenting on their new shoes or hair accessory.  Some days, just a morning or afternoon hug is all that is needed to make that daily connection. Her hope for our young students is that they feel safe in their school environment; that they love school; that they are kind and considerate; and that they are independent and confident.
On her own time, Mrs. Lee is most content going for walks, taking photographs, and being the proud mother of three Westminster graduates.