Can Private Schools Make Up Academic Ground Lost during COVID-19?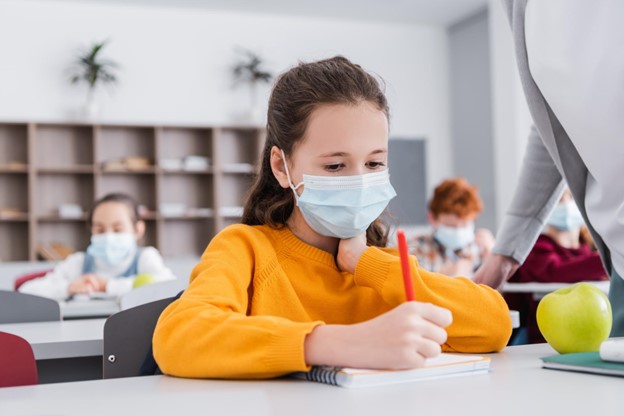 The pandemic took so much from our communities. For many children attending public school, it meant at least a year of lost, diminished, or disrupted learning. As parents look for ways to fill the pandemic-generated education gap, many are considering private school. Why? Because of the ongoing challenges public schools face when addressing this gap and all the reasons private schools are uniquely equipped to not only catch students up but to keep them moving forward in their education.
3 Main Challenges of a Public School during the Pandemic
1.Size of Public School Systems
The most prominent challenge public schools faced during the pandemic was their size. In the Fairfax County Public School system, there are 198 schools and centers serving over 180,000 students (prekindergarten through twelfth grade). This makes it one of the largest US school divisions.
In a time when flexibility was essential, multiple levels of bureaucracy and the sheer scope of the students they needed to accommodate hamstrung public schools. Through no fault of the teachers, the administrators, or anyone involved in the public school, they simply could not match the agility and creative problem-solving available to smaller private schools.
"Public schools did the best they could under extremely challenging circumstances, but with the overwhelming size of the public school system, they couldn't possibly do what Westminster did," said Nancy Schuler, head of Westminster School. "They have 180,000 students. We have 200. We were able to be more flexible in our approach. We were able to make bold decisions and strategic accommodations that kept everyone safe but also learning."
2.Compromises to Grading and Testing Standards
The pandemic was an unprecedented event. Having never endured anything like it before, every school and school system was expected to navigate safety concerns and learning expectations simultaneously.
In public schools, this often meant having to make compromises and concessions around grade standards, and the expectations around testing were largely diminished or eliminated.
"Public schools couldn't penalize students for factors out of their control, but that did mean a lowering of standards and compromises at the expense of the students' potential. It was truly an impossible situation for public schools and their students," said Schuler. "Private schools had challenges, of course, but with our size and independent governance, we were able to keep learning, grading, and testing standards high."
For Westminster, the school's response to the pandemic ended up highlighting something essential to their core approach and philosophy.
"Even in the most challenging situation, you never give up. You get creative. You keep trying," said Schuler. "We found a way to uphold our standards, even when we had to find new ways of doing that. The last thing we were going to do was shortchange our students on the education they deserved and were promised."
3.Basics, Details, and Life Lessons
In this challenging academic environment, public schools were navigating big-picture issues, safety, and logistics. That left little time for the details, nuance, or foundational basics that are so essential to excellence in learning.
"Excellence is in the details. That's Westminster's philosophy. If you don't give time, attention, and care to the details, then you don't get to excellence," said Schuler. "Westminster is all about old-school, down-to-basics skills that teach our students how to function in the big world. That includes everything from communication to speaking skills to penmanship."
In the face of daunting challenges, it's easy to see why little details get pushed to the side. Those details matter, though. They teach care and attention and guide students to mastery.
"If students don't get challenged, if they don't have to face failure, if they don't have to persevere, how will they be prepared for life?" said Schuler. "Life doesn't compromise, and our attention to the small details and refusal to cut corners are important ways we prepare these young students for the wider world."
The Education Gap between Public and Private School Is Wider Than Ever
The pandemic has had devastating effects on learning in public schools. Recent research took data from 5.4 million students in grades three through eight. It looked at math and reading test scores between pre-pandemic students, students in the initial onset of the pandemic, and students over a year into the learning disruption. The results they found were significant and alarming.
Students a year into the pandemic were 0.20 to 0.27 standard deviations below pre-pandemic students in math scores and 0.09 to 0.18 standard deviations lower in reading.
For context, the widespread devastation and disruption from Hurricane Katrina led to math scores dropping 0.17 standard deviations in a year.
Schools like Westminster are seeing these results firsthand in their admission process.
"In terms of academic progress, we are seeing some prospective students who are a full two years behind ours. Even parents who are looking at us because they're uncomfortable with what their children are receiving in public school are surprised to discover just how large the discrepancy is," said Schuler. "Students coming to us from public school are almost always at least a little behind because we have an accelerated curriculum, but now they're more behind than they've ever been."
This pandemic-accelerated gap is causing large numbers of parents, many of whom have never considered private school, to seek options outside the public school system.
"Many public school students basically lost at least a year of school. Westminster students have not skipped a beat," said Schuler. "The parents who come to us have lost confidence in the public school system. That's why we're dedicated to providing a strong catch-up-and-move-forward academic program to get these students not only back to where they should be but beyond."
Is Private School the Answer for Your Family?
As parents look for ways to overcome this lost learning time, many are considering private school. The choices can be overwhelming, though.
If you're wondering what makes a family a good fit for Westminster, it's all about a dedication to learning.
"If you have a child who's looking for a challenge, who wants to work, who loves to learn, know there's a school where all that is still possible. There's a place where standards are upheld and where excellence is valued," said Schuler. "Westminster students will thrive because they've been encouraged to excel, even through this horrible, difficult thing. They'll have the skills to cope and to get through the next hard thing because they've done it before."
If you're interested in learning more about Westminster School for your child, please feel free to get in contact: