Westminster School's Diamond Jubilee
Celebrating 60 years of excellence in education
June 11, 2022
The entire Westminster School community is invited to celebrate all that has been accomplished in the past 60 years and to imagine and plan for the next 60! Mark your calendar and plan to bring the entire family. This event will include many fun attractions for the children, special presentations and acknowledgements, and a celebration of all things Westminster, including our amazing, diverse community. Please help to spread the word to graduates and friends of the school!
Parking
Mason Crest Elementary – 3705 Crest Dr, Annandale, VA 22003 Follow signs to ticket booth
The Church of Jesus Christ of Latter-day Saints – 3900 Howard St. Shuttle Bus will run throughout the day
AUCTION
We are accepting donations of experiences for our raffle! Do you have a beach house or cabin in the mountains that you could supply for a week or weekend? Access to tickets to a ball game, concert, or other experience? We'd love to hear from you! Please email office@westminsterschool.com to offer your raffle prize suggestions.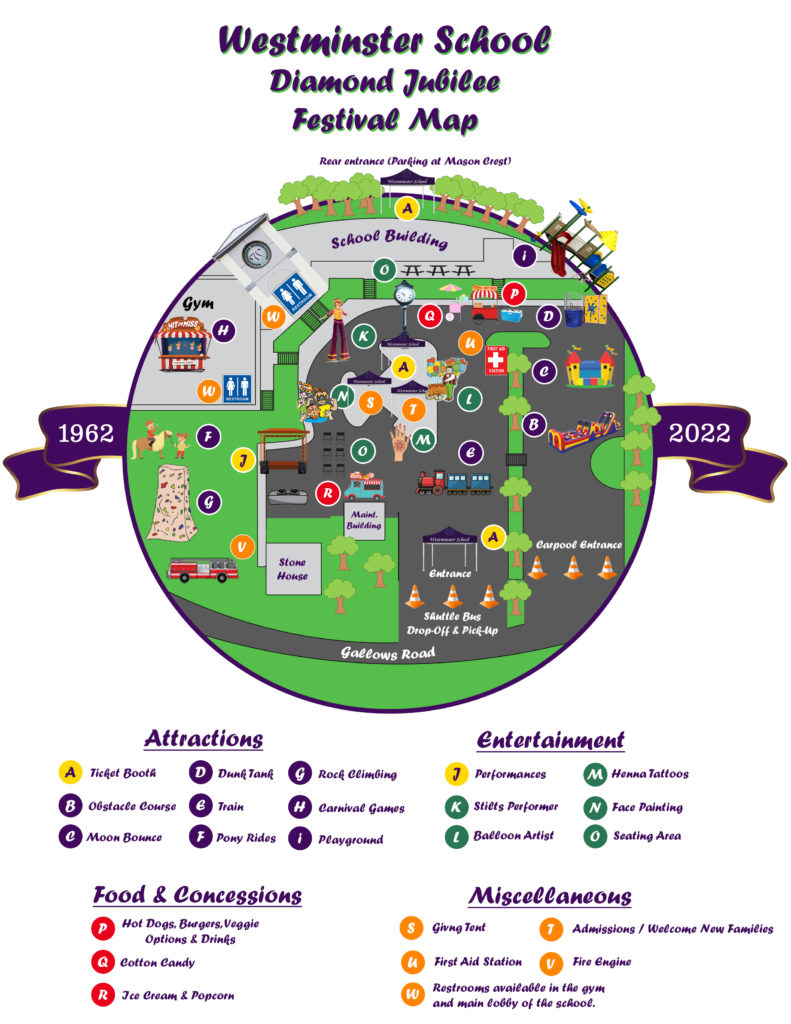 Festival tickets on sale at designated tents.
GIVING DAY – JUNE 11, 2022
On June 11, the entire Westminster community will come together for a family festival to celebrate 60 years of excellence in education. We plan to make the Diamond Jubilee Festival an unforgettable day of fun and friendship for our current and alumni families and our Annandale neighbors!
So much has been accomplished in the past 60 years in terms of the school facility, academic program, arts and athletics, enrichment classes, field trips and special events, and the nurturing of a diverse, supportive, and very special community! To recognize and honor Westminster's remarkable growth—from a kindergarten class held in rented church classrooms to the beautiful school and expansive program we enjoy today, June 11 will be our Diamond Jubilee Giving Day!
OUR DIAMOND JUBILEE GIVING DAY
GOAL: $25,000
All donations received between now and June 11 will be counted toward the
Diamond Jubilee Giving Day goal.
Gifts will be credited to annual giving and donors will be recognized
on the school website and future publications.
THANK YOU TO ALL OUR GENEROUS DONORS!
We look forward to all that will be accomplished.
We can't do it without you, and we can't wait to do it with you!
SPONSORS




Emily Hymowitz & Kevin Augustine