Westminster Music Program
Encouraging Talent
In the words of William Congreve, "music hath charms to soothe a savage breast, to soften rock, or bend a knotted oak." In writing about the power of music, the poet implied its unique character among the arts and, indeed, among the achievements of humankind. Music is arguably the purest articulation of the human spirit ever achieved and, as such, it is not only a treasure to be cherished and shared by all people but an unsurpassed medium of communication as well. For these reasons, Westminster School believes that an education in music is essential to the development and well-being of each child.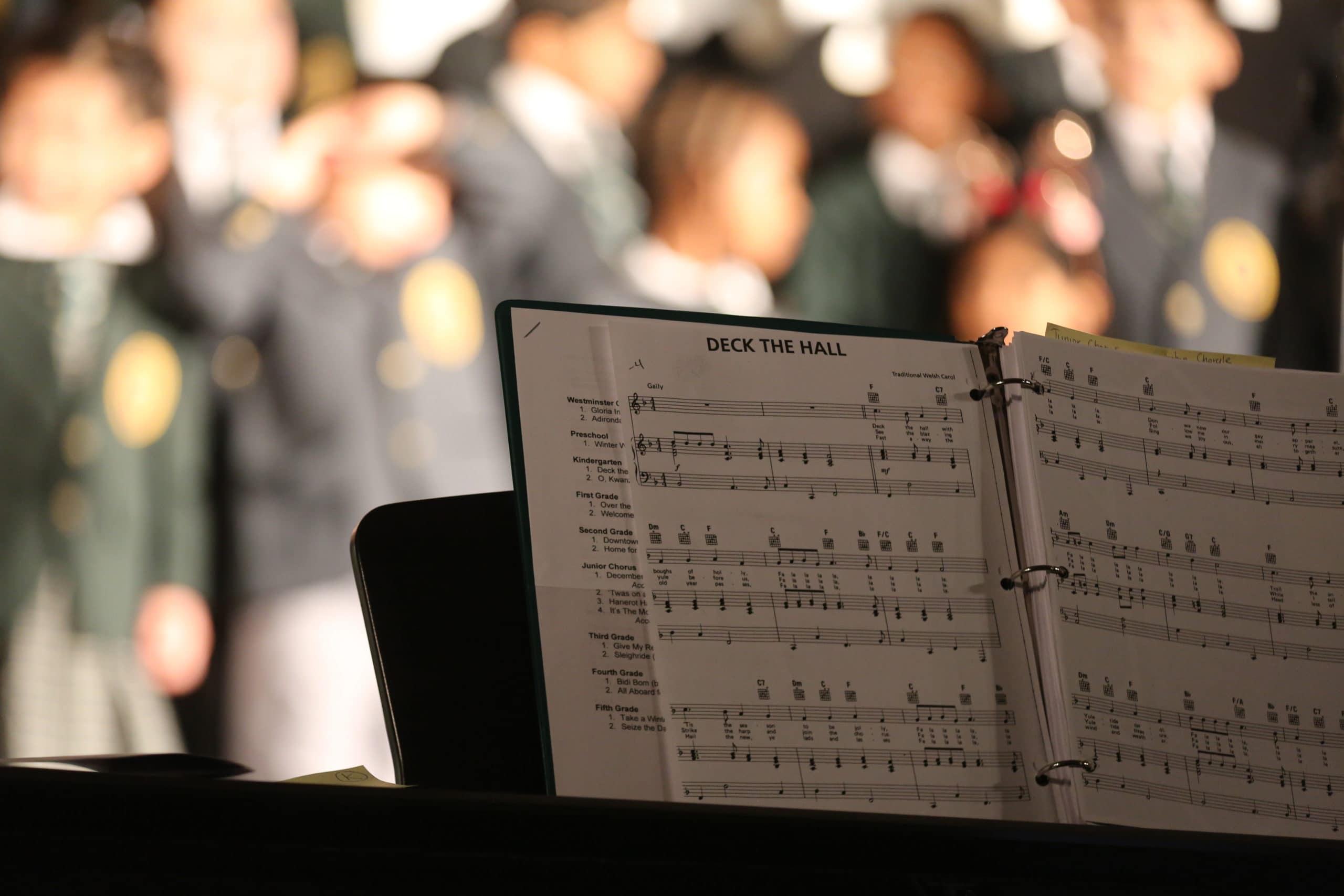 Music and Choral Program
In an age-appropriate program from Kindergarten through 8th grade, Westminster develops in students fundamental skills necessary for listening to, understanding, performing, and enjoying music of high quality. Students are exposed to a broad spectrum of traditional music and develop awareness of the components of increasingly sophisticated pieces. Class activities encourage keen listening and active response to music. Students gain familiarity with selected works of major composers from the Western classical tradition.
For students in all grades, the voice is treated as an important instrument, with instruction in good singing technique, phrasing, dynamics, and interpretation. Choral speaking is included in the elementary grades, with a focus on inflection and diction. In the upper grades, students' musical and cultural knowledge is expanded through visits to symphony, ballet, and opera performances.
The joy of self-expression and confidence in performance are important goals of the music program at Westminster School. Twice each year, students demonstrate their vocal accomplishments in choral performances before the assembled students, staff, and guests of the school. For those students who wish to be more involved in singing, Junior Chorus provides an additional opportunity for students in grades 3-6. Moreover, the Music Department works cooperatively with the Drama Department to prepare students for their annual plays, helping to select appropriate music and coaching students in solo and group singing.
Orchestra Program
Our mission at Westminster School is to provide students with a classical education in all aspects of their studies.  In line with this goal, the orchestra program at Westminster School begins in the third grade with instruction in violin, viola, and cello, with bass offered beginning in 5th grade.
Symphonette
Symphonette is our string training orchestra designed for beginning string students. Symphonette is available to all students in 3rd-4th grade and will meet as an ensemble once per week on Wednesday's beginning at 7:15AM-8:00AM. In this orchestra, students will focus on learning to play as an ensemble, begin to learn string repertoire and focus on their own technique. Symphonette will perform in at least two concerts per year.
Concert Orchestra
Concert Orchestra is offered to all students in 5th-8th grade, and will meet as an ensemble twice per week on Tuesday's and Thursday's at 7:15AM-8:00AM. The Concert Orchestra is designed for varying abilities in playing experiences. Concert Orchestra provides opportunities to develop precision and performance skills on orchestral stringed instruments.  Additionally, this ensemble emphasizes literature, historical contributions, theoretical studies and creative aspects of appreciation of music. The Concert Orchestra will play in at least three concerts per year.
Philharmonic
Philharmonic is the combination of all orchestras offered at Westminster School.  Philharmonic will meet on select days, and will focus on learning to play in a larger ensemble, prepare for performances, and improve musical knowledge of styles and technique. Philharmonic may utilize, when needed, wind/brass and percussion students who are taking private lessons. Philharmonic will perform in at least two concerts a year.
Group Lessons
Students will receive a weekly 30-minute lesson in a small group setting (2-3 students) with a professional instructor.  Technique lessons will meet on a rotating schedule during the school day.  Students will be taught how to play notes, rhythms, bowings, and the skills unique to his/her particular instrument. Students taking private lesson instruction in violin, viola, cello and/or bass outside of school will be able to participate in the orchestras at Westminster School.
Orchestra Retreat
Each Fall, the orchestra students will participate in a retreat, which will be held on a Saturday in October.  During this retreat, students will have the opportunity to build upon team aspects within an orchestra and work on skills with clinicians.