SUPPORTING WESTMINSTER SCHOOL
As scores of graduates and their parents will attest, there is no other school like Westminster. Its unique program of academic rigor, character development, personal attention, and joyous traditions prepares students to succeed in school and work, and above all, to pursue a fulfilling life.
As a 501c3 non-profit corporation, each year Westminster School seeks donations to help meet its operating budget and provide students and staff with the extras that make learning and teaching effective and memorable. It is also the most direct way to support increases to staff salaries and benefits, a crucial aspect of hiring and retaining high-quality teachers.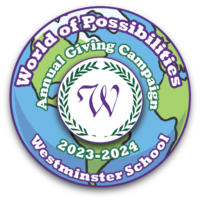 Westminster School's Board of Trustees established the Gryphon Legacy Fund to help ensure the future growth and success of the school. This fund is designed to provide project-based support, beyond the annual budget, for the programs and spaces that are so critical to the fabric of a Westminster School education. Projects supported by this fund will be identified by the Head of School and approved by the Board of Trustees. Donations to this fund may be made in recognition of those who have retired from Westminster School, alumni, graduate classes, as well as current staff and students.
Westminster School plans to install a state-of-the-art, turf athletic field, to open in fall 2024. The project also includes a new playground with outdoor basketball court and dedicated pre-school area. A leadership team of donors have come forward to generously fund the start of our capital campaign. Now it is time for all members of the Westminster community, present and past, to bring this long-held dream to fruition and help ensure the continuing growth of Westminster School. Click here for details about the Griffin Field Project.