A Classical Education Empowers Students with the Trivium of Grammar, Logic, Rhetoric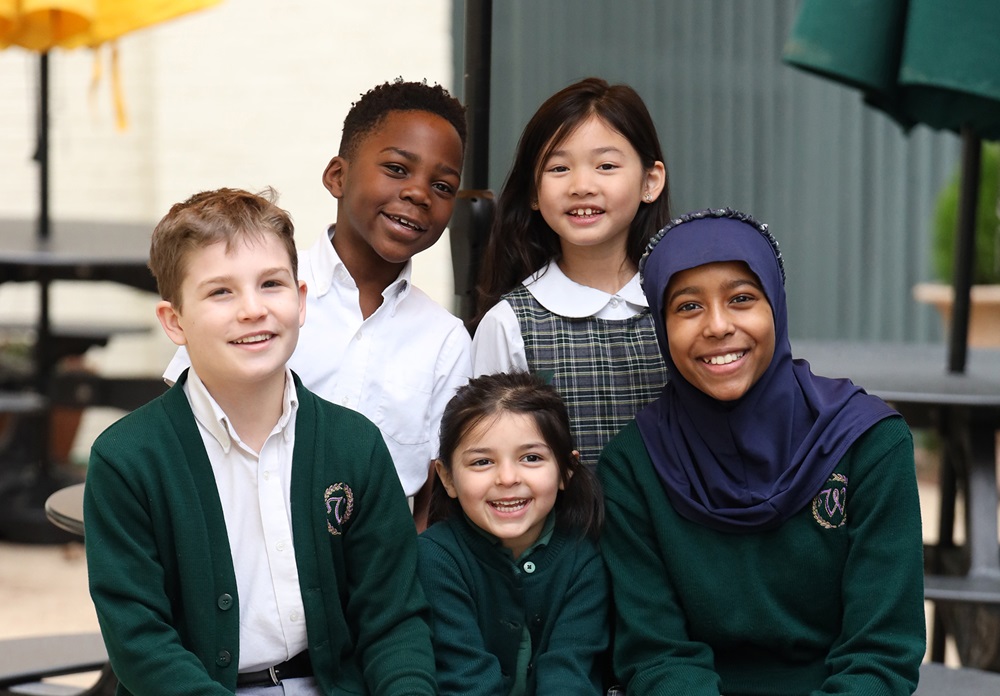 As you consider different private schools in Virginia, you might encounter the term "classical education." If you're uncertain about this educational approach, discover what it entails, how it differs from a traditional education, and the expected benefits of a classical education.

What is the difference between classical education and traditional education?
When looking for a private school in Virginia, prospective parents often discover Westminster School. Many wonder how it stands apart from traditional public, charter, or private schools. The answer is its classical education.
What's the difference between a classical education and traditional education?
Traditional education focuses on

what

to learn, emphasizing the accumulation of facts and information.

Classical education centers on teaching students

how

to learn, fostering critical thinking and analytical skills.
When understood in this way, the advantages of a classical education over a traditional education become evident.

Classical Education Offers a Proven Legacy

Classical education has existed for thousands of years. It dates back to the ancient civilizations of Greece and Rome.
During this period, renowned philosophers and educators, such as Plato and Aristotle, laid the foundation for classical education's principles and methods. Education during this time aimed to cultivate well-rounded individuals with strong moral character and intellectual capabilities.
Classical education has a rich history of producing the world's most influential and inspiring leaders:
Inventors

Scientists

Writers

Philosophers

Theologians

Physicians

Lawyers

Artists

Musicians
The enduring, time-tested nature of classical education is a testament to its effectiveness and ability to cultivate exceptional minds that have shaped human history.

A Classical Education Is Academically Rigorous

A classical education is structured around an academically rigorous methodology built on the trivium (grammar, logic, and rhetoric). A true liberal arts education, this aligns with students' natural developmental stages and promotes comprehensive learning.

The trivium forms the foundation of a classical education, tailoring the curriculum to meet the needs of students at different stages of cognitive development:
Grammar Stage: Children at the elementary school level have an innate ability to absorb information effortlessly in those early years. In this stage, children naturally acquire facts and form vocabulary and foundational knowledge.

Logic Stage: As students progress to middle school, their capacity for abstract thinking and reasoning expands. The logic stage capitalizes on this newfound ability. It teaches students to critically analyze, question, and evaluate information. As they hone their logical thinking and problem-solving skills, they make connections between subjects and deepen their comprehension.
Rhetoric Stage: In the final stage, typically during high school, students' cognitive abilities are primed for expressing ideas persuasively and eloquently. The rhetoric stage focuses on communication skills, teaching students to articulate their thoughts effectively through oral and written expression. By mastering rhetoric, students become proficient communicators capable of engaging in meaningful dialogue and presenting well-reasoned arguments.

Students Learn to Learn: Active Learning and Autonomy
Westminster School's classical education emphasizes inquiry-based learning.
Students are encouraged to actively engage with the material. They are taught to move beyond memorization to a place of understanding how facts relate to the world around them.
The curriculum reinforces concepts introduced in earlier stages and continually fosters new skills, such as analytical thinking, essay writing, and public speaking. This empowers students as independent thinkers.

Cultivating Wisdom
Moving beyond the passive accumulation of information, a classical education emphasizes the application of knowledge.
This includes an emphasis on:
Thoughtful decision-making 

Learning from the past

Virtues

Lifelong learning
Students are encouraged to critically evaluate their decisions, which prepares them to succeed as global citizens.

Developing Practical Life Skills
A classical education equips students with practical skills that extend beyond academic subjects:
Being exposed to diversity prepares students to excel in a globalized world.

Conflict resolution and trend recognition foster adaptability and resilience in professional settings.

The ability to think critically primes students for success in any situation.
Embracing Cultural Diversity: a Framework for Success
Cultural diversity is highly valued within the classical education framework.

Students at Westminster:
Are exposed to a rich curriculum that encompasses history, traditions, and societies worldwide.

Develop an appreciation and respect for the contributions of various cultures to humanity's progress.

Cultivate respect, empathy, and appreciation, helping them become global citizens in an increasingly interconnected world.
Understanding languages and cultures offers Westminster private school students valuable skills that promote:
A global perspective

Conflict resolution 

Trend recognition

Personal advancement
Culturally aware students gain an edge in an increasingly competitive global job market.
Celebrating Curiosity and Interconnectedness
A classical education nurtures students' innate curiosity and desire for discovery:
Each introduced concept serves as a stepping stone for deeper understanding, promoting a lifelong love of learning.

By presenting subjects in relation to each other, students gain a holistic perspective of the world and its complexities.

A comprehensive

STEAM program

promotes creativity and gives children the space to exercise their curiosity. 
Valuing Collaboration
Westminster School promotes a collaborative and inclusive atmosphere. Students are recognized as valuable contributors to the school community.
They are taught to collaborate, empathize, and appreciate others' unique contributions.

Westminster School's Classical Education
With a focus on analytical thinking, kindness, virtue, and modern society's demands, Westminster School exemplifies the power of a classical education.
Students receive a comprehensive education, developing disciplined, well-informed minds. The nurturing environment prepares students for global, lifelong success while fostering:
Strength of character

Dedication to learning

Generosity of spirit

Joy in life's possibilities
Westminster School prepares students to embrace life's challenges with confidence and wisdom through its broad humanities curriculum; rigorous academic standards; and atmosphere of respect, integrity, kindness, and excellence.

A classical education unlocks students' full potential, shaping them into capable, compassionate, accomplished individuals.

Contact Westminster School today to access the power of a classical education for your child.