Your Child's Education Should Begin With the Very Best Kindergarten Experience
Westminster School offers the most dynamic kindergarten experience in Northern Virginia. Our carefully designed program, delivered by knowledgeable, dedicated, and creative teachers, ensures that each student receives the individual attention and encouragement that he/she needs to grow and thrive in school and in life. The daily schedule is engaging, well-rounded, and consistent, and the school environment is orderly, loving, and encouraging. Westminster Kindergarteners feel safe, confident, and excited to come to school each day. Friendships abound in our diverse and welcoming community.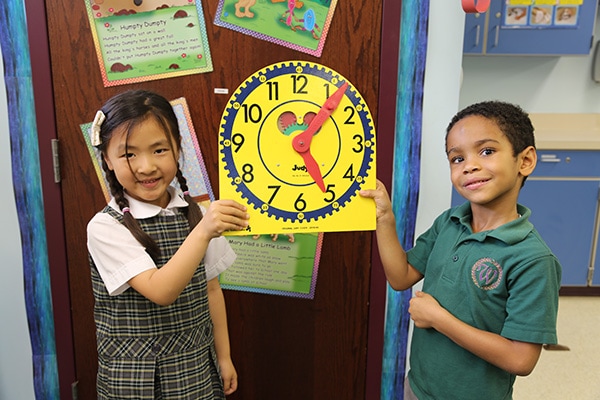 Westminster's Kindergarten program is rich and varied. Through daily lessons, hands-on exploration, creative projects, technology, field trips, and participation in many special activities and events, our Kindergartners dive into an exciting learning adventure. Young students are able to succeed in our advanced academic curriculum because of the small class sizes (student:teacher ratio = 10:1) and the carefully designed, time-tested methods used. Our teachers are subject specialists who love what they teach and match the curriculum to a variety of learning styles. Twice-weekly art and music classes, drama, French, and daily P.E. help children blossom into engaged, creative, and confident scholars. They are encouraged and shown how to be respectful, responsible, kind, and courteous. This all-around academic and personal development is cultivated throughout the Westminster program (grades K – 8), and our graduates go on to attend an array of well-regarded high schools.
Doesn't your child deserve the strongest possible start as he/she begins the journey of a lifetime?
We invite you to visit Westminster School and see for yourself how we implement this unique program. We look forward to meeting and welcoming you in person.
Westminster School
Established 1962
Presenting Challenge | Building Character | Instilling Confidence