How Westminster School Successfully Adapted The Physical Education Program
The pandemic presents many challenges for schools, including how to safely conduct physical education classes. Given the vital importance of these programs in schools, here's an overview of why PE is such a critical class, as well as some creative ways to keep students both safe and active.
Why Is Physical Education So Important?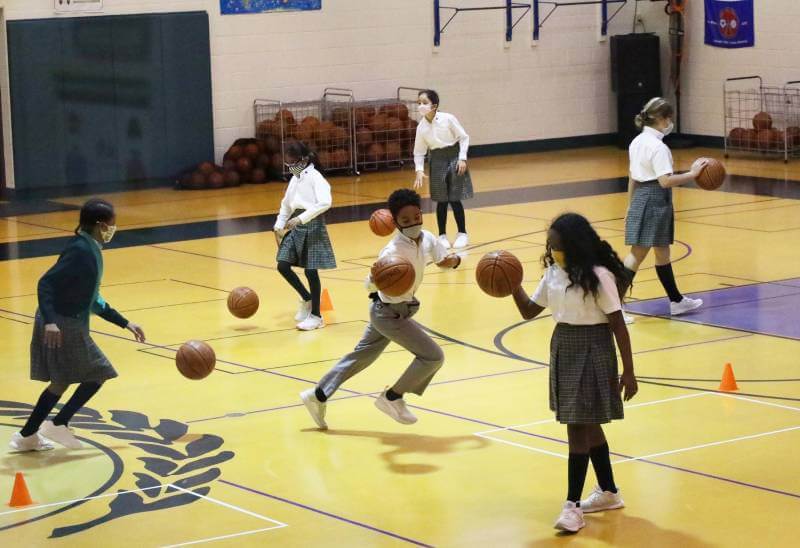 A class like PE presents unique challenges during this time because so much of the curriculum is dependent on students interacting with each other through team sports or being in close proximity. It's critical, however, that schools find ways to adapt their programs to continue providing opportunities for physical activity to their students.
Regular exercise presents numerous benefits, including the following:
Decreased risk of heart disease, cancer, type 2 diabetes, high blood pressure, obesity, and osteoporosis.
Improved cardiorespiratory fitness.
Weight control.
Stronger bones and muscles.
Reduced symptoms of depression and anxiety.
Westminster School prizes physical education so highly that it offers this class daily. Athletic director, coach, and physical education teacher Susan Connell teaches seven classes every day. Her students range from kindergarten to eighth grade.
"I love sharing my passion for fitness, movement, and sports with the children," says Connell. "Physical activity helps build self-esteem. It's not just about the physical aspect; it's also about emotional and mental health. Exercise can bring short- and long-term benefits for mood, sleep, and physical health. It helps the brain work more effectively, leading children to perform better in the classroom and in life."
How Westminster School's Physical Education Program Has Responded
Given the physical and mental benefits of PE, Westminster School knew it had to find a way to keep its program running. As with the drama program, the teachers, administration, and students were all committed to finding creative solutions to the problem at hand.
Connell, who has been coaching and teaching for thirty-six years, has been instrumental in devising, implementing, and enforcing new policies in the PE program. In true Westminster fashion, she did not turn around in the face of obstacles but found innovative ways to get around the problem.
"This school year, we wanted to make sure all our students felt safe, were comfortable, enjoyed moving, and had fun," says Connell. "The importance of PE, especially during this pandemic, goes beyond the physical aspect. It's about the perseverance of every student and teacher. It's about letting the students know they're not alone. We are all in this together, and we will get through it."
4 Creative Methods for Safe, Active PE Class
1. "Individual Safety Zones"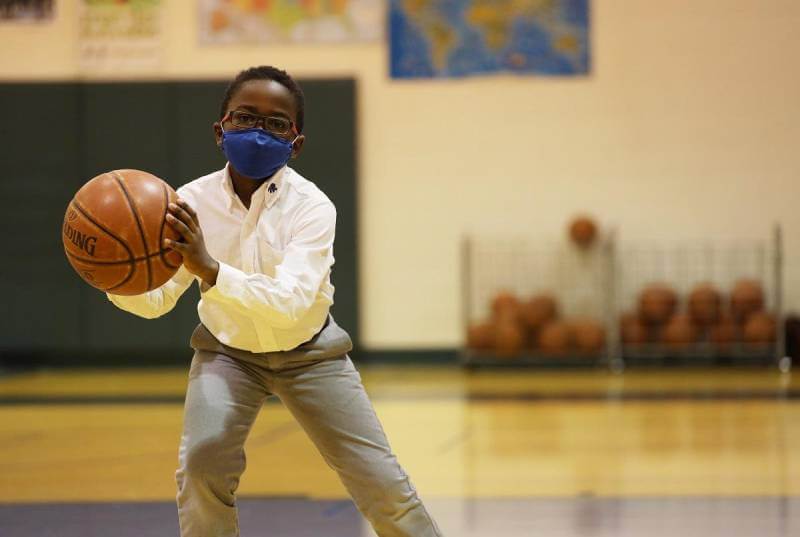 The biggest logistical challenge of holding PE during the pandemic is how to keep the children socially distanced. To make everything as clear and simple as possible, we've placed a grid of tape squares onto the gym floor. Students stay within their squares, and this ensures nobody comes in too close of contact.
Even if the students get excited or rambunctious during class, the tape provides an easy visual to remind them to stay apart. This is especially helpful for our younger students.
2. New Individual Sports
To address concerns about physical proximity, Westminster veered away from team sports and gravitated toward individual sports. This presented the opportunity for the PE program to embrace sports it had never tackled before, including golf, badminton, tennis, and table tennis.
"We also added a fitness component, including Zumba, kickboxing, stretches, yoga with stability balls, resistance bands, free weights, and medicine balls," says Connell.
Not only were the students introduced to sports and activities they might not otherwise play, but it also gave some of the students unique and unexpected experiences, such as an after-school field trip to the driving range.
As with so many aspects of this 2020–2021 school year, we are continually delighted by the unexpected opportunities that have come as a result of our commitment to holding in-person instruction.
3. Personal Gym Bags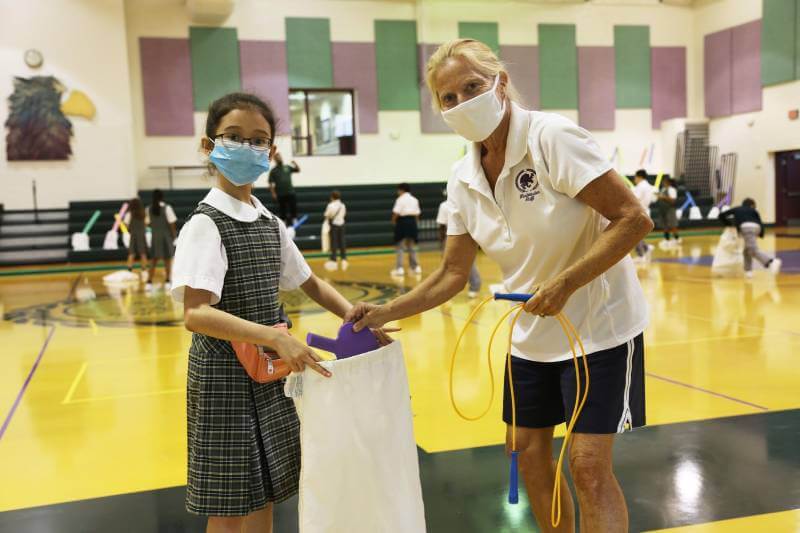 Shared sports equipment could harbor germs that might spread from student to student. That meant the sharing of equipment was one aspect of class that had to be amended.
Today, every Westminster student's personal gym bag has been adapted. In addition to containing a PE uniform, it now contains all the equipment he or she needs for the class, and there's no risk of any students mixing up or using each other's equipment. Without a communal space that houses equipment, it also minimizes contact between the students when grabbing what they need for the session.
4. Hand Sanitizer…Hand Sanitizer…Hand Sanitizer!
When the students do come in close proximity for class, masks are worn, and hand sanitizer is required before and after any contact. The CDC recommends using a hand sanitizer with at least 60 percent alcohol.
A Note about Hand Washing
According to the CDC, the best way to prevent the spread of germs, bacteria, and infection is with frequent hand washing. Using plain soap and water, wash for at least twenty seconds.
In class, the more practical (and still effective) solution is hand sanitizer, but hand washing is also recommended to our students throughout the day, especially before eating, after using the restroom, and after coughing or sneezing.
Interested in learning more about Westminster School and seeing its beautiful campus? Register to attend a virtual open house with us today! On a limited basis, we're still accepting applications for the 2020–2021 school year. We are welcoming applications for the 2021–2022 school year. Apply today!