From Careers to Empathy, How a Strong Foundation Sets You Up for Success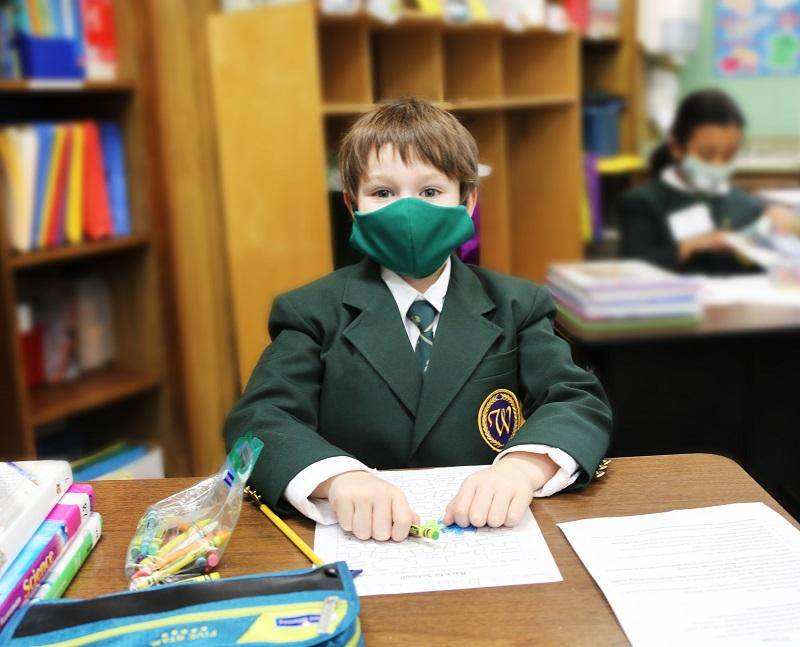 Education is a foundational tool, and being developed in a challenging, well-rounded, in-depth curriculum from a young age offers lessons that students carry well beyond their school years. Add in the traditions, teaching staff, and diverse community Westminster offers, and students are put in a position for lasting, impressive success.
We recently hosted an alumni panel discussion with three Westminster graduates who shared how Westminster has impacted (and continues to impact) their lives on a daily basis.
The following thoughts are from Brett Williams (sportscaster, class of 2009), Amanda Fulk-Meadows (nurse, class of 2001), and Mojan Nourbakhsh (actress, producer, and entrepreneur; class of 2006).
1. Time Management
"Westminster taught me how to time-manage beautifully…It's just amazing how some of the things I learned in third and fourth grade stuck with me and really prepared me for high school, if not college."
—Amanda Fulk-Meadows
"If you want something done, give it to the busy person." There's some debate over who said this first, but the sentiment holds true. Time management is not something you automatically know how to do. Like anything difficult, it's a learned skill, and it requires practice to become proficient.
Westminster is designed to offer our students these challenging, full schedules, and then we're committed to equipping them, from a very young age, with the tools and support they need to successfully navigate them.
Organization, time management, and prioritization are all key skills to learn, and they become indispensable tools when students grow up and begin managing and enjoying busy, fulfilling professional and personal lives.
2. Confidence
"I definitely think confidence, public speaking, teamwork, all of that was just wonderful and such a given. Some of the most shy people in my class who could barely do an oral presentation in sixth grade, all of a sudden, are doing theater, and they are then president of their freshman class. It is just such a drastic change in confidence and abilities."
—Amanda Fulk-Meadows
A cornerstone of the Westminster curriculum is the drama program. By creating a caring, safe environment where every student is required to participate, students are gifted with the ability to nurture their public speaking skills, teamwork, accountability to a group, poise, and confidence.
Perhaps more than anything else, these lessons are invaluable because they teach graduates how to fearlessly and confidently pursue their goals and dreams. They've been given the opportunity to do intimidating, difficult tasks, and they've come through on the other side. Even if it wasn't always easy, they have the knowledge going forward that putting themselves in the spotlight, while sometimes uncomfortable, can yield spectacular benefits.
3. Leadership
"Values run through the whole school, and everybody feeds off that. And if you buy into that, you will become a more empathetic person and a more compassionate person, which, ultimately, leads to being a good leader…It doesn't matter what other kind of hard skills you have. You have to have that as well, and that's certainly something you get out of Westminster."
—Brett Williams
Being a great leader requires an array of personality traits, but one key factor that comes up often is empathy. If you can understand and have compassion for the people around you, you will be a more successful leader.
For this reason, Westminster aims to be more than a school; we're a community. When young students are given the opportunity to participate in that kind of environment and are asked to live up to personal and academic excellence, leaders are created. In the professional landscape, that mentality is invaluable. For a confident, compassionate, articulate leader, there are no limits to what can be achieved.
4. Compassion
"When you teach young kids how to value themselves, how to have respect for themselves and have respect for others, it really makes a big difference down the line."
—Mojan Nourbakhsh
Being compassionate toward others always starts with respecting yourself. Teaching young children how to value themselves is the first step to creating a generation that loves, respects, and has empathy for the community around them.
Again, Westminster treats self-respect as an integral part of the experience. Whether it's something practical, such as keeping your uniform tidy, or more of an abstraction (believing you're worthy enough to accomplish a particular goal), the entire Westminster staff aims to instill that sense of self-respect. Teachers, administrators, and other staff members value that so highly because they know it directly correlates to then demonstrating genuine compassion for others.
5. Personal Presentation
"What I think is really special about Westminster are the enrichment classes. I don't really know of anywhere else that holds a class where the head of school, for example, comes in and teaches us, as eighth-graders, how to properly close the door and not let it slam behind you. Or how to properly sit on a couch. I'll never forget when Mr. Glover told us, 'We don't plop on couches. We sit.'
And it's these little things that, throughout any time I've gone to a network interview or this, that, or the other, it's these little things that they notice. And in my head, in those moments, every single time, I think, 'It's because of Westminster.'"
—Mojan Nourbakhsh
The education at Westminster is intentionally designed to offer equal focus on academic and personal development. A successful Westminster student is not just a scholar; it's also someone who's a good, kind, ethical, confident, poised individual.
In an increasingly competitive professional landscape, this emphasis on personal presentation can be the advantage one needs to impress in an interview, to make a favorable impression while networking, or to open any other number of professional doors.
Learning how to comport oneself has tangible, lasting value, and it's a skill that's not emphasized in every school.
6. Gratitude
Westminster graduates are the first to admit they didn't always appreciate what they were receiving in the moment, but nearly every alum looks back on the opportunities Westminster provided with immense gratitude. There's a resounding acknowledgement of everything the school gave them and how those gifts have enriched, furthered, and promoted their futures.
If you're interested in learning more about the Westminster curriculum or if you have any questions about our approach to education in general, please feel free to join us for a virtual tour. We'd love to meet you and to welcome you and your family into the Westminster community!