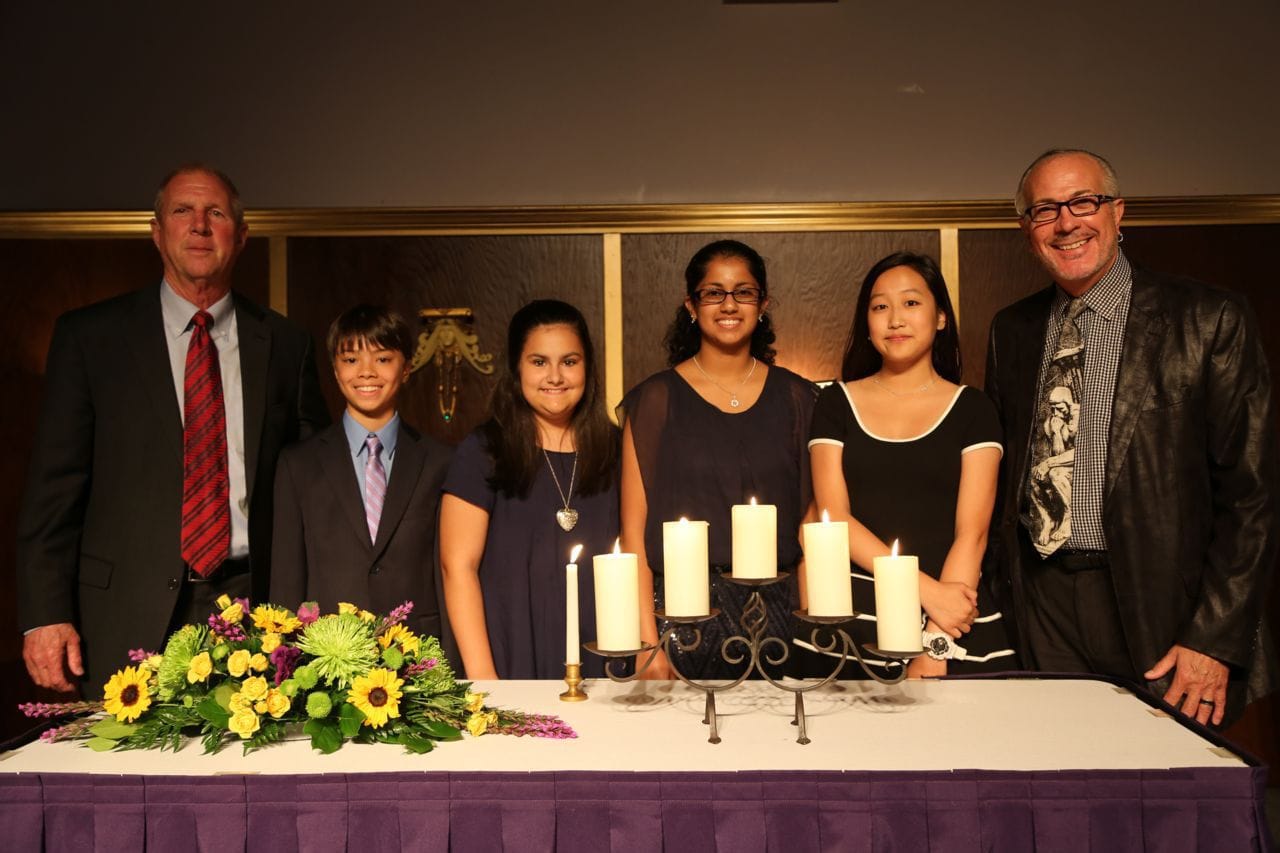 On Monday, September 15, Westminster School's 7th and 8th grade students pledged to help make the world a better place as members of the Builders Club service organization.  The Builders Club is an international, student-led organization providing members with opportunities to perform community service, build character, and develop leadership. Westminster student members learn to work together and develop service and leadership skills as they labor on behalf of their school and community.
Builders Club officers apply for their positions and are elected by their peers.  The officers for the 2014-2015 school year are Ejun Kim (8th grade, President), Carder del Rosario (7th grade, Vice-President), Divya Kumaran (8th grade, Secretary), and Nicole Hisey (7th grade, Treasurer).  At the induction ceremony for 2014-2015 members, each newly elected officer lit a candle and recited one of the principles  of the Builders Club.  Mr. Miller led the members in taking the Builders Club pledge to "commit to serving others in need."
This year the Builders Club will sponsor the annual Homeless Walk-A-Thon, Mr. Turkey Drive, and the holiday gift card program.  Additionally, our students will participate in many other service projects throughout Northern Virginia.
In the highly anticipated annual tradition, Mr. Glover closed the program by announcing the upper-school plays for the 2014-2015 school year: Romeo and Juliet (7th grade) and The Sound of Music  (8th grade).
Builders Club Core Values
Character building: The ability to do the right thing, even when it might be the unpopular choice.
Leadership: The ability to listen, communicate, serve and guide others.
Inclusiveness: Accepting and welcoming differences in other people.
Caring: The act of being concerned about or interested in other people or situations.
Builders Club Pledge"
I pledge on my honor to uphold the objects of Builders Club: to better my school, my community, my nation, and myself; to aid those in need while enhancing leadership capabilities;, and to encourage the fellowship of all mankind."