Gryphon Theatre ~ Buy A Seat Plaque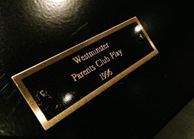 Come and take a look at the seat plaques that have been installed.   The brass plates are 2 ¾" x ¾", black back ground with gold lettering.   Many of them have the name of the person or group, a saying, or just a thank you to Westminster.  Come to the theatre and take a look.
There are a few seat plaques still available.  Please contact the development office or complete the on-line form.  As the orders are completed the plaques will be installed.  Each plaque is $500.00 and is 100% tax
Westminster School is grateful for
gifts at all levels of giving.
Thank you for your commitment and support.